Another Update On The Blog Change/Error
I posted previously another person's explanation that this blog changed because the design expired, but apparently or possibly that wasn't the reason. The text for titles on the blog changed (in my view, not the latest person responding, apparently) from bold and just a basic text with no curves or anything in the letters to be thin and somewhat fancier letters. I asked about it in the forums and the first person responding said it was because the template or theme I was using expired and was not updated since I had not "registered" before the template "expired." That sounded dumb because who's going to keep updating the blog whenever the template suddenly "expires," especially if you are lazy and non-tech-savvy like me and don't feel like dealing with such shit?
Anyway, here's the new explanation which I got emailed to me and that is probably also updated on the forums (NOTE: The view pictured from this person's response is not how the blog appears to me on the laptop computer I use, although it USED to appear this way):
"Hi there,
Since you don't have Custom Design I don't see how your site's text could have changed. Currently this is what I see: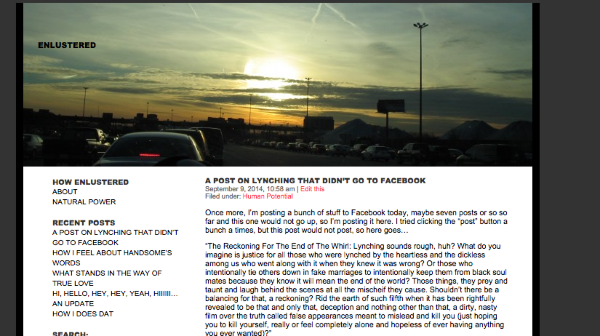 I'm not quite sure if this is the change or if it's how it was normally. It may have just been a glitch – not quite sure. However, in any case, I highly recommend updating your password just to be safe.
Let me know if you have any questions with this!"
Leave a Comment so far
Leave a comment